The 2018 FIFA World Cup final is set. France and Croatia will play for all the glory Sunday. Third and fourth places will be determined on Saturday when England faces Belgium.
Croatia has never appeared in a World Cup final. France last won the title in 1998 when they beat Brazil 3-0 in a World Cup they hosted.
Croatia went undefeated in Group D, including a convincing 3-0 hammering of Argentina, then beat both Spain and Russia in matches that lasted 2 hours each and both went to penalty kicks. Their semi-final victory against England also needed two periods of extra time. But they won it without the need for penalty kicks.
World Cup Semi-final results
England 1 – 2 Croatia
It took two overtimes, but Croatia get a go-ahead goal in the 109th minute. Croatia will advance to face France in the World Cup final Sunday. England meets Belgium to determine third place.
England was runner-up to Belgium in Group G. Since advancing, England beat Colombia on penalty kicks and knocked off Sweden in the quarterfinals. Harry Kane has 6 goals for England and is looking a sure bet for the Golden Boot Award.
France 1 – 0 Belgium
France advanced to the World Cup final after a 1-nil victory over Belgium Tuesday. It was a hard-fought match for both sides as they battled back-and-forth in a very physical game. In the end, a goal in the 51st minute by Samuel Umtiti was the only difference.
Both France and Belgium won their respective groups. France then beat Argentina and Uruguay en route to the semi-finals. Belgium beat Japan and pulled off a stunning upset of Brazil to make it to the semi-final match. They couldn't knock off France and will now have to settle for the third place match against the loser of tomorrow's England vs. Croatia match.
A loaded team that's rarely had to exit second gear (France), and another that expended more energy than anyone in the tournament (Croatia), will meet for the 21st World Cup championship.
The matchup was set Wednesday, as Croatia outlasted England in extra time at the Luzhniki Stadium in Moscow, the venue for the title game. France was a favorite before the tournament and will remain so Sunday, in part because of its depth and talent, and in part because it'll enter the final so much fresher. But the resilient and indefatigable Croats won't be an easy out.
The strength of both sides is the force and flair of their midfields and flanks, where stars like France's N'Golo Kanté and Kylian Mbappé, and Croatia's Luka Modrić and Ivan Rakitić have put their stamp on this World Cup.
This is the third all-European final in the past four World Cups, and Croatia—a debutant at this stage—is the 13th nation to reach a World Cup final. Here's a closer look at Sunday's matchup:
France vs. Croatia World Cup final prediction: Determining edge in defense, midfield, attack, more
France and Croatia will face off in the World Cup final this Sunday after winning their semifinals matches, and it's a contest that is loaded with talent. Even the average soccer fan knows just how stacked France is, but Croatia is a team that also has its fair share of superstars who have helped carry this team.
But which has the edge when it comes to the different lines and more? Let's break the matchup down piece by piece.
Talent
Edge: France
Why: Both teams have some fantastic players, 10 of which play in what I think is the top league in the world, La Liga. But there's no doubt France has more talent. From young star Kylian Mbappe and Antoine Griezmann up top to a midfield led by one of the best central defensive midfielders in the world in N'Golo Kante alongside Paul Pogba, the team is superb. But when you add that the French have one of the top goalkeepers in Hugo Lloris and a central defensive pairing in Barcelona star Samuel Umtiti and Real Madrid's Raphael Varane, you just see a team oozing with talent. Croatia has Dejan Lovren in defense. That's all you need to know.
Goalkeeper
Edge: France
Why: Look, I think Danijel Subasic is a fine goalkeeper. He's been so good for Monaco over the years and can pull off some massive saves. He's also shown how good he can be against penalty kicks, but Hugo Lloris is of a different breed. The Tottenham man is one of the top 3-5 goalkeepers in the world right now, and all you need to see is what he did to Martin Caceres in the quarterfinals to be reminded why:
Defenders
Edge: France
Why: Umtiti and Varane are simply bigger, stronger and better than Domagoj Vida and Lovren. The Croatian defense isn't a bad pair by any means, but France's is so much quicker and better. That doesn't mean this will be one-sided, but the clear edge goes to Les Bleus.
Midfield 
Edge: Push
Why: I love what Kante brings, and he can stop Luka Modric. He's that good. But Modric and Rakitic are top-tier midfielders and better in attack than France is. While France has the edge defensively in the middle, it doesn't have an edge in attack. Modric can control a match for 90 minutes with his turns and superior passing, but he's going to have to be sharp against Kante, who will be out to wreck his world.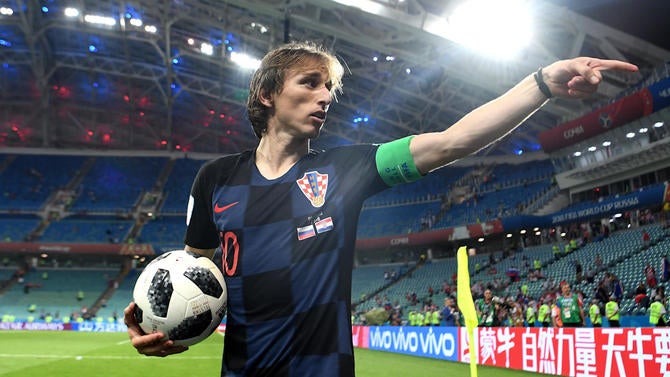 Attack
Edge: Push
Why: Griezmann is great, Olivier Giroud is solid, Kylian Mbappe is a superstar, but Croatia is complete in the final third as well. The Croatians don't have a player in attack better than Griezmann or Mbappe — they really don't have anyone close — but they are so dangerous with Mario Mandzukic's poacher ability and Ivan Perisic on the wing. Perisic, the Inter Milan star, could be the difference in this match. I think France will win, but entering this one I like what Croatia has in attack just as much as what France has because of Croatia's experience playing together and chemistry on the field.
Coach
Edge: Push
Why: Didier Deschamps is more experienced and the bigger name, and he's gotten his team to finally play well, but Zlatko Dalic has worked wonders at Croatia.
Prediction
France is just too talented, and they are on a roll. The country wins its second World Cup crown in regulation, with a dynamic attack threatening time and time against until a late winner comes from Kylian Mbappe.